PressureSafe Training Course
2-day IOSH approved online training consisting of 1 learning day followed by a day of remote exams and assessment scenarios.
The enhanced engineer pressure systems examination training course has been created to help service engineers understand Pressure Systems Safety Regulations 2000 and provide detailed training on how to undertake pressure system statutory examinations.  
Delegates will benefit from gaining knowledge on how PSSR regulations impact them, the role of the competent person and be made aware of the chain of responsibility. The course gives practical examples of examinations and techniques and provides best practice guidelines documented by the Health & Safety Executive. 
This course is for experienced service engineers with a minimum of 6 months experience in pressure systems, wishing to carry out the statutory examinations as required by PSSR, in conjunction with the PressureSafe reporting system.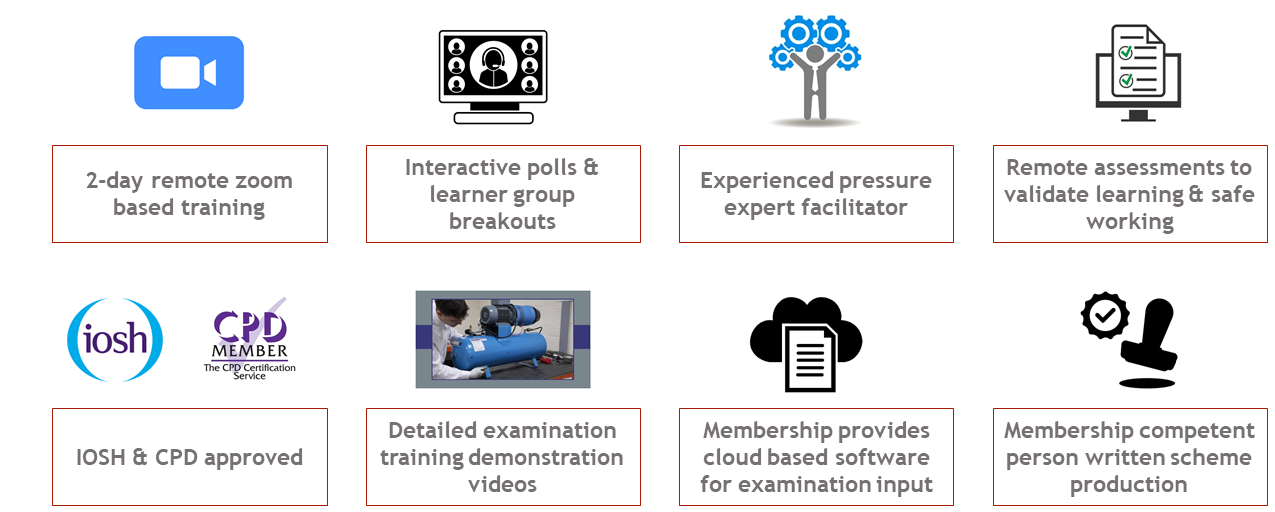 The main objective of the course is to ensure the safety of everyone exposed to or within the vicinity of a pressure system.  The course will cover health & safety issues, Approved code of Practice and guidance notes regarding the regulations. 
We have many delegates who attend the training for a number of different reasons and it's optional as to whether or not you wish to join as a member. For more details on PressureSafe membership click here.

Engineer Examination Next Training 14-15th Feb 23