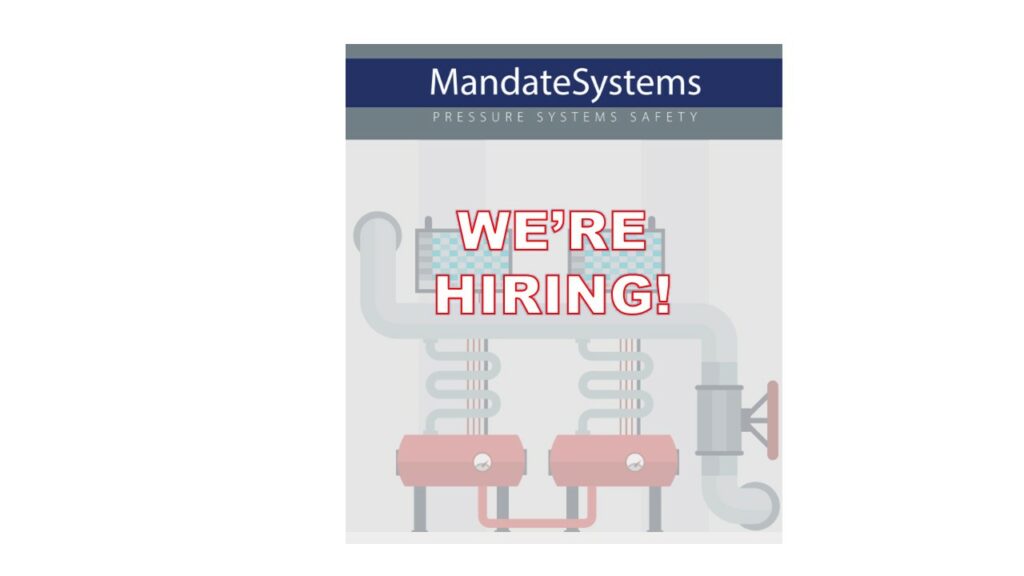 We are looking for a Midlands based Engineer Surveyor to join our field-based team to undertake pressure system examinations and written scheme reports, in the area and to the south of the country.
Who we are:
Mandate Systems are a family run business with over 30 years specialising in written schemes of examinations for pressure systems equipment. Our mission is to provide our customers with exceptional service and have their safety at the forefront of what we do. We use bespoke software to provide speedy cloud-based compliance reports. Our customers are UK wide and range from large commercial brands to sole traders.
We pride ourselves with high quality examination and reporting on pressure equipment, ranging from compressors, autoclaves to large mixed gas systems and protective devices all examined in accordance with the Pressure System Safety Regulations 2000.
As an Engineer Surveyor your core duties include:
· Completing quality assessments and rigorous equipment examinations
· Carrying out detailed reporting, with attention to detail and professionalism
· Undertake small protective devices swap out
· Providing job updates and reviewing time on site from current visits to future projections
· Ensuring all customers are compliant with vital regulations that help to govern their industry in the UK (including PSSR)
· Helping to prolong the life of pressure equipment by spotting any potential defects and providing best advice to customers
· Providing exceptional professional service in a timely manner
· Supporting office team with any customer technical queries
· As and when required support the wider engineering team with our PressureSafe engineer submission reviews
· Work closely with our logistics team delivering on a planned work schedule with remote working frequent
· Undertaking work typically Mon-Fri during the hours of 8:00- 5:00. There will be some occasional weekend work
You will need:
· Minimum 2+ years in Compressed Air engineering (preferably mechanical )
· Full clean UK driving license
· Knowledge and skills to navigate IT systems such as Microsoft, G-suite
Desirable skills (not essential):
· Knowledge of related Regulations and Directives (PSSR, PED, PUWER, LOLER)
· NEBOSH General Certificate (or equivalent), or working towards
· Knowledge or experience of Mixed Gases and Steam
· Proficient in AutoCAD
HNC/D or equivalent in Mechanical Engineering
We are proud to have a team that consists of the best, highly skilled and qualified Engineer Surveyors and we want our new recruit to have the same attitude, aptitude and appetite for what we do. Working in a close nit team and reporting to the Engineering Manager, we believe our greatest assets are our people. If you want to work for a company that values its employees as much as its customers, look no further.
A company van is available for the successful candidate, a bonus scheme, expense card and a company pension. 20 days annual leave, plus bank holidays and extended Christmas break.
Interviews:
First interview will be held remotely via Zoom. Successful interviewees will be invited to a face to face interview at our office in West Yorkshire, which will be socially distanced in line with Government guidelines.
Application deadline: 15/05/2021
Job Types: Full-time, Contract
Salary: £29,000 – £31,000 per year
Additional pay:
Benefits:
Company car
Company pension
Private medical insurance
Sick pay
Schedule:
Experience:
pressure systems: 2 years (preferred)
Licence/Certification:
UK Driving Licence (required)
Willingness to travel:
Work remotely:
COVID-19 precaution(s):
Remote interview process
Social distancing guidelines in place